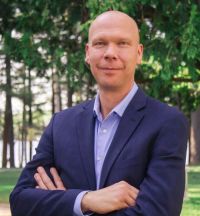 Lance Postma, Head of School
The cornerstone of a RLC experience has always been its close-knit, inclusive community, set in a truly beautiful and natural setting, where young people learn under the supervision of caring adults who see their profession as a calling, not a job. Our commitment has always been to provide a 'Best of Self' education that includes developing leadership skills, while building within students the values of Confidence, Competence and Character.
These values remain consistent, but how we define these values must be harmonious with the world our students will soon enter. RLC introduces The Future Fowrad Program to help redefine the Competence value to meet the demands of tomorrow with a focus on relevant skills, knowledge, attributes and credentials that will put our students at the forefront as candidates for the programs and careers they seek.
RLC continues with constant values such as focus on post-secondary preparation, rich extra curriculars, unique natural environment and small learning groups. The Future Forward Program will anchor these values with clearer personal goals, diverse and personalized learning strategies, diverse learning spaces and much focus on building skills and competencies for the future.
Competition for placement in post secondary programs and beyond this, in the workforce, has never been greater. At their age, few of us had to ask, "Will I get a job?" , but today, so many young people do. With Furure Forward, RLC students will be able to ask different questions and have the skills and confidence to answer them.
Lance Postma